Forging the Future of U.S. Soy
Boots on and head full of tasks, you're sweating in the fields each day. From the shores of the Atlantic coast through the wide plains of the Midwest to the rocky soil of the West, hundreds of thousands of soybean farmers work their fields just like you.
All soybean farmers want a future for their beans. Whether it's helping U.S. Soy feed animals in new places around the world, inspiring the creation of soy-based motor oil or championing rural broadband initiatives, the soy checkoff is committed to driving that future forward for you.
Since 1991, the appointed farmer-leaders have focused on creating and enhancing partnerships that build preference for U.S. soybeans, creating multiple profit opportunities for this miracle bean.
The Gold Standard
U.S. soybean meal is considered the gold standard of protein feed ingredients. And, the soy checkoff is committed to holding that title for U.S. soybean farmers.
U.S. farmers grew over 3 billion bushels of soybeans in 2019. The soybean meal from those beans goes around the world for a multitude of uses, including animal agriculture, human nutrition and even industrial uses.
Protein is a key piece of nutrition in a variety of ways. Recently, the soy checkoff partnered with the High Yield PLUS Quality program (HY+Q) and the Foundation for Food and Agriculture Research to make sure U.S. farmers are growing soybeans with the highest protein content while ensuring yield performance.
Yield and Quality
The Illinois Soybean Association launched the HY+Q program in 2015. Since then, the program has grown a team of industry-
leading supporters and signaled a new era in the quest to make the nutritional value of U.S. soybeans even better for livestock.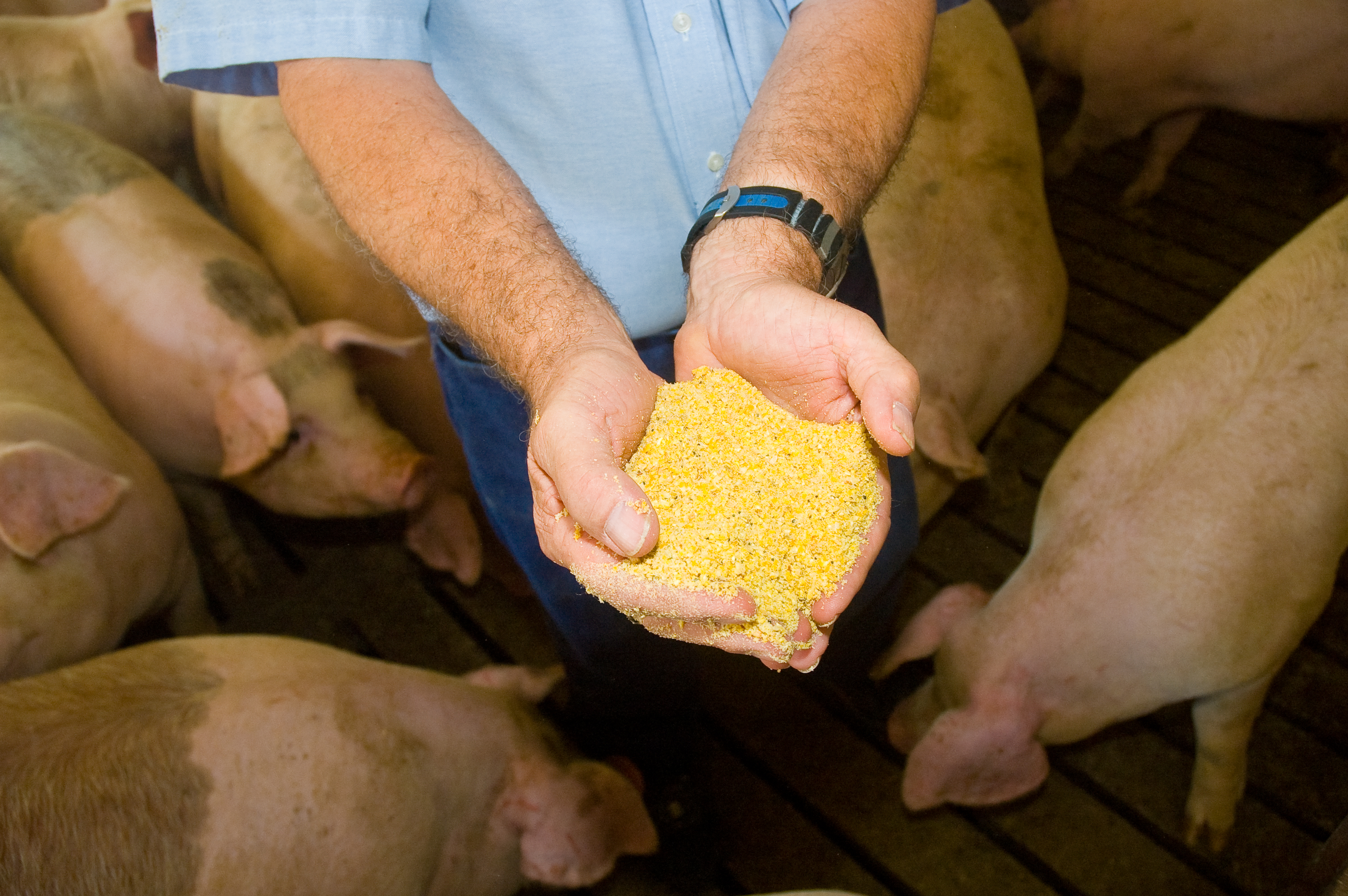 "Animals consume 97% of soybean meal produced in the U.S. Our friends in the animal industry are our top customers," said David Iverson, checkoff farmer-leader from Astoria, South Dakota.
To show how much money can be hiding in your soybeans, HY+Q offers a calculator to farmers. The ration formulation software used by this calculator is the same tool animal nutritionists use. This tool shows what soybeans grown by farmers across 10 states are actually worth in a livestock feed ration.
A soybean farmer can go to the HY+Q website, at soyvalue.com, to use the calculator with their own information. After inputting their state or maturity group zone and their seed company, a personalized chart automatically generates comparing against the overall feed value trends. The system also assigns a Livestock Relative Value Score to varieties, ranking them in value compared to other varieties.
"We're always looking to improve the quality and components of our soybeans and soybean meal and trying to develop new markets,"
said Iverson, who serves as the meal target area coordinator for the United Soybean Board.
High-quality soybean meal — packed with a premium nutritional bundle of amino acids and minerals — and high-quantity yield differentiate U.S. soybeans from those grown abroad. Those benefits build preference for U.S. soybean meal, creating a win-win scenario for soybean farmers and their No. 1 customer: animal agriculture.
Soy Checkoff Joins Forces with FFAR
Partnering with the Foundation for Food and Agriculture Research, the soy checkoff took another step toward enhancing U.S. Soy's competitive advantage, driving opportunities for U.S. soybean farmers.
This 50-50 partnership dedicated $3.2 million to research improving the protein quality and increasing the protein content of U.S. soybeans while maintaining yield.
"Leveraging checkoff funds in this manner with other public and private collaborators extends the reach and potential impact of checkoff investments," said USB Vice President of Meal Strategy Keenan McRoberts, Ph.D. "It also increases buy-in from key value chain partners."
This is a long-term strategy to support U.S. soybean farmers' interests. "The checkoff will continue to seek and act on opportunities for critical partnerships and leveraged funding sources like this to amplify the soy checkoff's investment reach, impact and returns," McRoberts added.
The soy checkoff and FFAR are co-funding soybean research to support four projects covering an array of topics, including:
Improving genetic diversity.
Developing new germplasm varieties with consistently elevated protein and yields.
Identifying novel amino acid composition genes.
Pinpointing the genes that result in elevated protein and using them to breed commercial soybean varieties.
"By partnering with the soy checkoff, we are investing in research to increase the protein and individual amino acid content of U.S. soybeans," said Sally Rockey, Ph.D., FFAR's executive director. "This research not only helps U.S. soybean farmers remain competitive but also adds additional protein to the food supply."
McRoberts concurred. "Protein is the fundamental building block of our food supply, and a protein-first approach, extending access to plant- and animal-based foods with this key macronutrient, is a priority for the U.S. Soy community."
On top of identifying ways to improve protein content and overall quality of U.S. soybeans, the checkoff anticipates the research findings will strengthen the U.S. soybean industry's position in the marketplace. Ultimately, the strong position will develop and expand both domestic and foreign markets.
The Ultimate Utility Player
U.S. Soy's industrial end users are attracted to the reliable supply, renewable characteristics and sustainability of soybean oil. As consumers demand environmentally friendly products, manufacturers are replacing caustic chemicals and potentially harmful ingredients such as petroleum and formaldehyde with conventional and high oleic soybean oil. Today, among the thousands of soy-based goods on the market, three are making big waves in consumer and industrial products and driving demand for your U.S. soy.
High Oleic Motor Oil
Biosynthetic Technologies created a new choice in motor oil by uniting performance and sustainability at a competitive cost — with high oleic soybean oil. The new biosynthetic motor oil is also recognized as a USDA Certified Biobased Product in the United States Department of Agriculture's BioPreferred Program, and made of 26% renewable content.
This motor oil has been thoroughly performance tested. DC Water, a drinking and wastewater treatment company serving Washington, D.C., and surrounding areas, and the United States Department of Defense both tested biosynthetic motor oil in
their fleets. The organizations reported strong performance, better fuel efficiency and cleaner engines when compared to petroleum-based motor oil.
Tim Fitzgerald, director of fleet management for DC Water, said, "This biobased motor oil exceeded our expectations in terms of performance and engine cleanliness. The oil is biodegradable and less harmful to the environment. I see real potential for greater use of this biobased alternative in the future."
Most modern cars, SUVs and light trucks can use biosynthetic motor oil. The soy-based motor oil is sold on Amazon, motoroil.biosynthetic.com and in select farm and hardware retailers.
Okabashi Shoes
The U.S. company Okabashi relies on U.S. soy for the footwear it produces. Made up of 45% soy by weight, U.S. soy meets Okabashi's high standard of performance and sustainability for their products.
Renewable and abundant by nature, U.S. soy is perfect for replacing petroleum in Okabashi shoes. Okabashi's commitment to stewardship and care doesn't stop there. Throughout the COVID-19 pandemic, the company pledged to donate up to 10,000 pairs of shoes to frontline workers, matching purchases. The soy checkoff is proud and excited to support Okabashi using U.S. soy in their shoes.
Belinda Burrier, checkoff farmer-leader and oil target area coordinator from Union Bridge, Maryland, said, "Okabashi's shoe donation is just one of the reasons I'm proud to grow soybeans. It shows the importance of continuing to look for new ways U.S. Soy and our partners can give back to communities."
You can find more information on Okabashi shoes and purchase your own at okabashi.com.
Goodyear Creates Fourth Line of Soy-Based Tires
It's no secret that USB and Goodyear have collaborated to create high-quality, sustainable tires. This year, Goodyear has released its fourth line of tires using soy-based products.
"U.S. soybean growers are pleased to see this multiplier effect growing from their collaboration with Goodyear through the soybean checkoff," said Ralph Lott II, a checkoff farmer-leader and demand action team chair from Seneca Falls, New York. "The checkoff worked with Goodyear to support their innovation using U.S. soybean oil."
Goodyear recently announced it will increase its use of soybean oil in 2020 by 25%, with even loftier inclusion goals by 2040. Learn more about the newest line of tires at goodyear.com, available in the U.S. and Canada.
High oleic soybean oil is a superior oil product with many uses — both in the industrial and food sectors. This soy checkoff-driven innovation continues to make its way into food uses such as cooking oil and flavored creamers as well as industrial uses including asphalt, motor oil and even shoes.
"Where will high oleic go next?" Burrier said. "If these industrial applications are any indication, there's no limit."
These industrial applications of conventional and high oleic soybean oil are exciting opportunities for the checkoff, but many organizations are also excited about the sustainability benefits of soybean oil. Sustainability doesn't start with these companies — it starts with farmers and what they're doing from planting to harvest. Keep reading for more about some of the checkoff's sustainability efforts.
For the Long Haul
For many consumer packaged goods companies, sustainability is non-negotiable. Their customers seek products and businesses that positively impact environmental factors such as water quality, greenhouse gas emissions and soil health. The soy checkoff understands its CPG customers expect U.S. Soy to help them reach their sustainability goals. The checkoff has programs to support soybean farmers' use of tools and technology to deliver the sustainable product end users need, such as the Take Action pesticide-resistance management program.
Alignment with UN Sustainable Development Goals
Soy end users are committed to improving sustainability beyond the actions of their organizations. They are looking for changes implemented throughout the value chain. Farmers like Steve Reinhard, checkoff farmer-leader from Bucyrus, Ohio, see their contribution to sustainability showing up in their on-farm practices.
"We do look at sustainability for the end user," Reinhard said. "Often, what is good for our farm, to make it more sustainable, corresponds with the goals our customers are trying to achieve."
The U.S. Soybean Export Council recently led the charge to align U.S. Soy's priorities to the United Nations Sustainable Development Goals by establishing benchmarks for U.S. soy sustainability.
By 2030, the SDGs aim to tackle 17 global challenges. Goals include zero hunger, clean water and sanitation, climate action and more.
By aligning farmer practices with the goals of CPG customers and the global community, USSEC's former chairman and checkoff farmer-leader, Derek Haigwood, believes U.S. Soy ensures its role as a positive sustainability partner — now and into the future.
"Agriculture plays a major role in world activities and is an essential part of the solution to addressing the issues outlined in the U.N. Sustainable Development Goals," Haigwood said. "Aligning the work of U.S. Soy to the goals identifies ways to minimize the negative and increase the positive impacts of soybean production in a prioritized, deliberate way."
Rural Broadband and the American Farmer
Rural broadband accessibility is an issue many farmers face in their daily routines, from streaming video and accessing the internet in their home to running technology in the planter or combine. The checkoff sees it as a priority to find ways to increase access for all U.S. soybean farmers.
The soy checkoff understands the importance of access to high-speed broadband for farmers like Reinhard, who depend on internet access to power on-farm technology. The checkoff released a study in 2019, "Rural Broadband and the American Farmer," which looked at the impacts of limited access to broadband on farming operations, including efficiency, profitability and sustainability implications.
Some farmers are fortunate to have farms located in areas supplied with quality broadband access, but most are missing high-speed access. Nearly 60% of U.S. farmers and ranchers do not believe they have adequate internet connectivity to run their businesses. Location and population play a significant role in determining access to broadband.
"My broadband is good at the farm. By luck, it is located on a highway and has a good line. However, where our home is located, rural broadband is horrible," Reinhard said.
The majority of the technology used on farms today, such as autosteer, UAVs and sensors, require broadband connections. When these tools work as they should, they allow farmers to improve their sustainability through fuel, water and input efficiency.
Reinhard said broadband connectivity is important not only for current farmers, but for the next generation. Those farmers are currently learning the tools of the trade.
"As we tend to use larger platforms such as Climate FieldView, we need more bandwidth with quicker speeds. Students who are taking classes need the speed as much as we do," Reinhard said.
Broadband internet access will be even more important for farmers this year as the world continues to navigate the COVID-19 pandemic. As farmers seek to safely grow crops, they will need to account for COVID-19 precautions in addition to other variables they cope with every year, such as weather, pests and access to labor. Having access to the latest news and information on this pandemic would help this process move along more smoothly.
Wireless internet access is a key component to running a successful modern farming operation. In today's fast-paced society, it's all about staying connected to stay on top of the ever-changing industry. Reinhard said the value farmers bring to the U.S. economy could multiply significantly with fast, reliable broadband access.
Looking Ahead
The soy checkoff has programs in place to ensure U.S. soybean farmers can continue to improve practices through innovation, creating a prosperous and sustainable environment for generations to come.
For centuries, from east to west, soybean farmers have faithfully grown this important crop. And for just as long, U.S. soybean farmers have been making improvements each generation. For nearly three decades, the soy checkoff has stood with U.S. soybean farmers. Together, they are driving change.